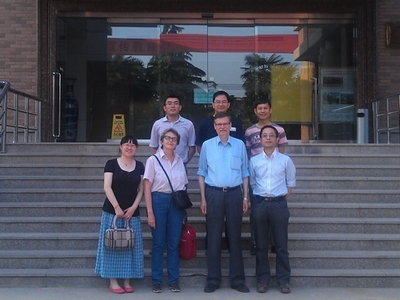 At the invitation of Ansai Soil and Water Conservation Station, on June 1st , Prof Paavo Pelkonen from University of eastern Finland and Prof. Rosario Fanlo from Universitat de Lleida, Spain visited ISWC and conducted Academic exchange.
The academic exchange was presided by researcher Chen Yyunming, director of the Ansai Soil and Water Conservation Station. Porf. Paavo Pelkonen introduced the progress of the joint program in forestry between National Natural Science Foundation of China and Science Academy of Finland , the research progress of woody biomass energy in University of Eastern Finland , the setup of research team and latest progress in this field. Later, Prof. Rosario Fanlo introduced the makeup of Universitat de Lleida and its research features. Researcher Chen Yunming introduced the development of Ansai Soil and Water Conservation Station, research projects at the station, the experiment and demo works at Ansai Station and the international exchange. Both side discussed the possibility of conducting cooperation in the future.
During their stay in ISWC, researcher Liu Guobin, Director of ISWC met the two foreign professors and introduced to them the research capacity, features and research achievements of ISWC. Under the companionship vice director of Ansai Station, Mr Xu Bingcheng, the two guests visited the Rainfall Simulation Laboratory, Climate Simulation Hall.
It is reported that professor Paavo Pelkonen has been the president of Bioscience and Environment Research Council of Academy of Finland, director general of Finland Forestry Association, professor of University of Eastern Finland in the field of woods production. He has been exploring the biomass energy for more than 30 years and has made great effort in the extension and dissemination of forestry education globally. He has ever been the president of University of Eastern Finland University ( former Joensun University) from 1990 to 1998, later he has been the dean and vice dean of College of Forestry of University of Eastern Finland. Mr. Rosria Fanlo has been a professor of Universitat de Lleida, Spain, engaging in the mutual impact between forestation and natural pasturage quality and its diversity.