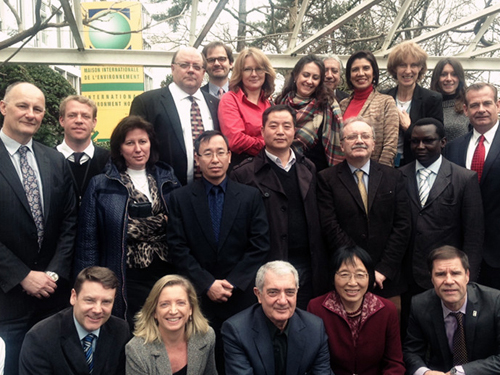 Dr. Wang Fei, Associate Professor in Institute of Soil and Water Conservation, Chinese Academy of Sciences and Ministry of Water Resources, was invited to participate in the first meeting of the Assessment Methodology Group (AMG) on the Sixth Global Environment Outlook (GEO-6) in 30-31 March 2015 in Geneva, Switzerland.The task is mainly for the implement of the first Global Intergovernmental and Multi-stakeholder Consultation on GEO-6 held in Berlin from 21-23 October 2014 in its final statement (UNEP/IGMC.2 Rev.2) agreement of "establish an AMG to provide guidance on assessment methodologies and to ensure the overall quality of data and information flows".
The agenda of this meeting stated several objectives based on an expert group from UNEP and 23 countries worldwide. Ms. Jacqueline McGlade, the Chief Scientist and Director of Division of Early Warning and Assessment of UNEP, participated this event. The topics covered the update on the GEO-6 process, scope, framework and the role of AMG, the proposed structure of GEO-6, assessment methods and frameworks including data, information, ontologies and indicators, the guidance and standards for review process for scientific credibility and UNEP assessment methods standards manual and MOOC (Massive Open Online Course), etc.
The rigorous assessment process aims to make GEO products scientifically credible and policy relevant - providing information to support environmental management and policy development. GEO also supports multi-stakeholder networking and intra and inter-regional cooperation to identify and assess key priority environmental issues at the regional levels. The 5 issues of GEO were launched in 1997, 1999, 2002, 2007and 2012 and published in many languages respectively. The GEO-6 expecting to be launched in mid-2017 will build upon global and regional assessment processes and create a comprehensive picture of the environmental factors contributing to human well-being, accompanied by an analysis of policies leading to greater attainment of global environmental objectives and goals.